Advent & Christmas at Asbury
All are invited to celebrate the birth of Christ as we worship together during the Advent season. See below for a list of our Advent worship services and events and our Christmas Eve worship schedule. Join us as we grow, live, and share with all the love of Christ.
Poinsettia Sales
Order your poinsettia "in memory of" or "in honor of" a loved one. Your gift of $20 will reserve a poinsettia in your loved one's name. Simply complete the order form and make checks payable to Asbury, noting "poinsettia" in the memo. You can mail your check to the church ( Asbury UMC, 101 Live Oak Blvd, Lafayette, LA 70503), drop it in the offering plate, or bring it to the church office.
Advent Worship Services
Advent Worship Series: "The Wonder of God-with-Us"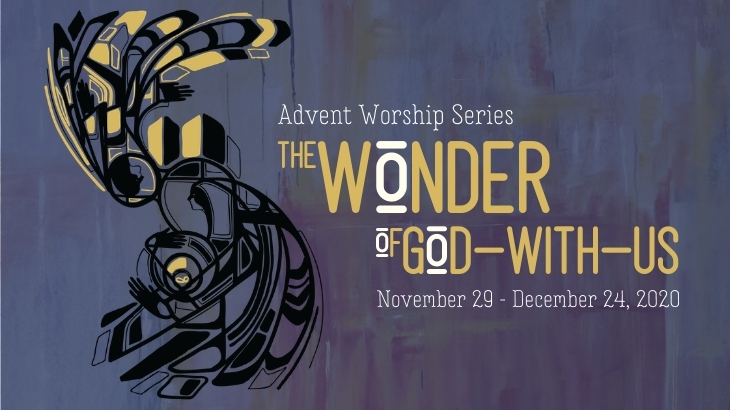 Has Christmas lost a little of its wonder? This year especially, perhaps the joy of Christmas is offset by the hard edges of life. Or perhaps you feel wearied by the way Christmas has become a polished, predictable brand. The sacred story of this season can feel so removed from today's world. But what if Christmas isn't just something that happened a long time ago? What if, instead, we can experience again the wonder of Christmas? This holiday season, connect with Asbury as we experience together the hope-filled truth that God shows up in the hardest parts of our humanity and that we can know the wonder of God-with-Us!
December 20 at 9:45am and 11am Sanctuary Christmas Week Kick-off
To reflect the joy of the holidays, we invite you to wear your favorite festive Christmas attire on Sunday morning in the Sanctuary, December 20th, as we anticipate the birth of Jesus, God's great gift of love to all. No registration is needed.
Pajama Jam in Spiritwind Worship Center on December 20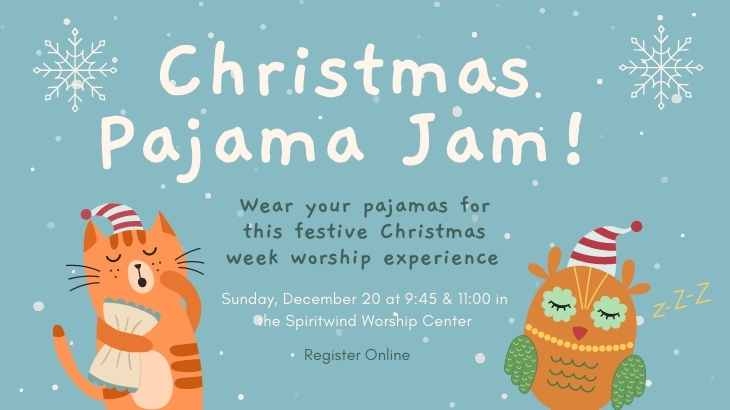 Start Christmas week in style and celebration at "Christmas Pajama Jam." Wear your best holiday pajamas or Christmas wear and join us in the Spiritwind Worship center at 9:45 OR 11:00 on Sunday the 20th to tell the Christmas story together and celebrate God's love. Space is limited so please register ahead of time.
One Quiet Moment Service December 21at 6:30 p.m.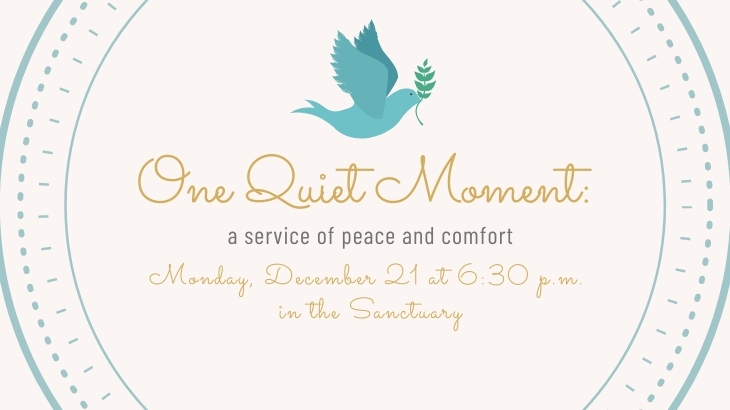 The year 2020 has been a year of unprecedented change and upheaval, and many of us are feeling somewhat overwhelmed by the jolting changes. The holiday season brings many welcomed opportunities for joyful celebration; however, we also sense a need for a time of quiet reflection on the challenges of these past months and a renewing of our spirits. We invite you to join us in the Asbury Sanctuary on December 21st at 6:30pm for "One Quiet Moment: A Service of Hope and Comfort." This gentle service which will focus on the hope and healing offered by Jesus, Emmanuel, "God with us" in every moment of all life brings our way. Registration is available beginning on November 22nd.
Advent Special Events
Advent Drive Thru November 22, 3:00 - 4:30 p.m.
Drive through the Asbury Campus to prepare for the Advent and Christmas season! While on campus you will receive an Advent At-Home kit with Advent Wreath candles and readings for each Sunday, a daily Advent Calendar, devotional book, a DIY Christmas ornament, and more.
We are also receiving food donations for UCO and the UL campus food pantry. Needed items are:
Canned soup meals
Canned diced vegetables
Canned mixed vegetables
Fruit cups/canned fruit
Peanut Butter
Jelly
Jiffy Cornbread
We are excited to see you as we begin this season of hope together.
Asbury Giving Tree: Nov 22 - Dec 6
Asbury is hosting our Giving Tree again this year to provide gifts to several families that were affected by the recent hurricanes. These families are involved in the Louisiana Methodist Foster Care Program or were referred to us by Love, INC. You can participate in one of the following ways:
Louisiana Methodist Foster Care Program – Purchase a gift that is on a wish list of a child in the foster care program ($20-$50). Please deliver your unwrapped gifts to Asbury by Sunday, December 6th.

Love, INC (In the Name of Christ) - Purchase gifts or a food basket for a family affected by the recent hurricanes ($50+Per Child) by Sunday, December 6th. See list of family opportunities and sign up for one here.
If you are undecided on how to help, a monetary donation is always appreciated. The Snowflake Fund provides meal bags, gifts and cards throughout the year for Asbury's members who are homebound or in nursing homes, our New Friends, and Meals on Wheels clients. The Giving Tree Fund provides funds for stocking stuffers, gifts and food for those families who were not adopted.
You can write a check payable to Asbury UMC and note in the memo section which fund you would like to support. Or you can go to our online giving portal and make a donation to The Giving Tree fund.
For more information, please contact: Carol Groth, , 344-7575, or the church office 984-4211.
Christmas Concert Series: December 6 and 20
December 6: Please join the Asbury Choir and Orchestra for our 2019 presentation of Handel's Messiah! The recording will be available on December 6.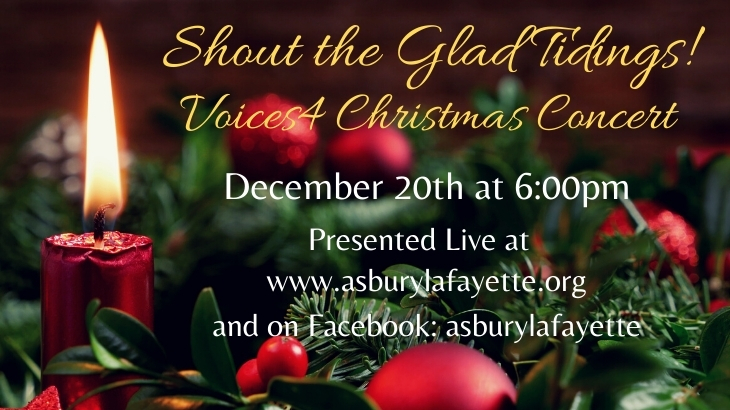 December 20: Asbury's Voices 4 will present a Christmas concert live-streamed on our website and Facebook page at 6:00 p.m., December 20, 2020. After the concert, a recorded version of the concert will be available for you to enjoy through the rest of the Christmas season.
Christmas Eve Candlelight Services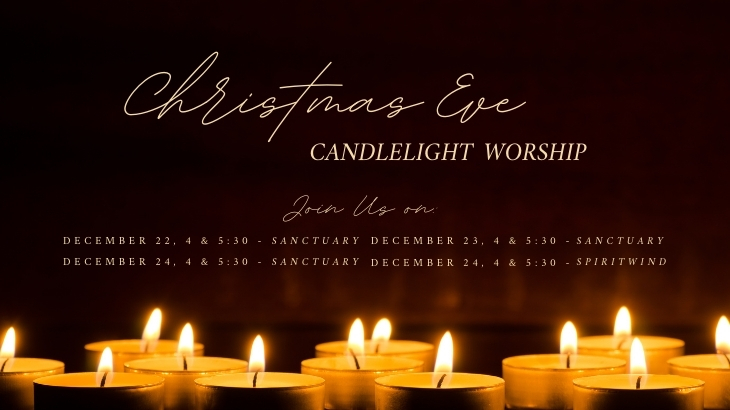 Our Christmas Eve Candlelight Services will take place on December 22, 23, and 24 so that we can accommodate as many people as possible to welcome the coming of Christ. We will hear the Christmas story and our favorite carols, celebrate Holy Communion, and experience Silent Night by candlelight. Because space is more limited this year, worshippers will need to reserve a seat at one of the services in the Sanctuary or Spiritwind Worship Center. We will also provide a livestream for those who wish to participate from home and after the livestream, the recorded version of the service will be available.
December 22 at 4 p.m. and 5:30 p.m. Candlelight Christmas Eve Service in the Sanctuary
Register for Dec 22 Candlelight service
December 23 at 4 p.m. and 5:30 p.m. Candlelight Christmas Eve Service in the Sanctuary
Register for Dec 23 candlelight service
December 24 at 4 p.m. and 5:30 p.m. Candlelight Christmas Eve Service in the Sanctuary
Register for sanctuary dec 24 candlelight service
December 24 at 4 p.m. and 5:30 p.m. Candlelight Christmas Eve Service in the Spiritwind Worship Center
Advent-at-home Resources
Christmas Eve Offering
This hurricane season was devastating for our neighbors in Southwest Louisiana, and Asbury stepped in to help in spectacular ways. In that same spirit of helpfulness and in keeping with our tradition of congregational generosity, we will give our entire Christmas Eve Offering to a sister church who is experiencing tremendous hardship. Westlake United Methodist Church, just outside of Lake Charles, received extensive damage to both its church building and parsonage. They are a small church with a big spirit, and they need help.
We look forward to our members joining in to share Asbury's spirit of generosity and make a difference in the lives of our neighbors in Westlake, LA!
You may give your offering at any Christmas Eve service, make an online contribution, or mail a check to the church office at 101 Live Oak Blvd, Lafayette, LA 70503 (note "Christmas Eve Offering" on your check).
Online giving is available at the link below. Please select "Christmas Eve Special Offering" from the dropdown menu.