MESSAGE UPDATED November 20, 2020
Happy Thanksgiving!
This Thanksgiving is certainly going to be different for most of us. Since doctors are cautioning us about how we gather during this holiday season, my family won't be having our usual large celebration; instead, it will just be our household at the table in the kitchen this Thursday. Each person is responsible for "bringing" one dish, and so far, it looks like the menu will likely include 2 pies, 2 soups, waffles, and peanut-butter-and-jelly sandwiches! I'm sure it will be unforgettable, and I am thankful!
This Thanksgiving week, be careful out there. It's not yet time to let down our guard. Discover the little things to be thankful for. And even more importantly for this year, check on your friends and neighbors who may be a little lonely as the COVID situation lingers on and is increasing in severity in our community. I'm thankful for phone calls, video calls, and handwritten notes that can draw us closer together.
I'm also thankful that in-person worship has been able to continue and to grow by following responsible health precautions. Many in our congregation who cannot be present are faithfully participating online, and I'm so grateful for those new online ministries. We've restarted programs for children and youth, and many of our adult groups have found creative ways to connect. Moving forward, we've planned some special Advent and Christmas ministries that you'll read about below. And since we're living through times when plans may need to change if circumstances change, for every holiday "Plan A," we have a "Plan B" just in case! I'm certainly thankful for that!
Have a safe, joyful, and thankful Thanksgiving next week, and I'll see you on Sunday either at the church or online!
Peace & Love,
Rev. John
Asbury Advent Drive Thru Nov 22
Drive through the Asbury Campus to prepare for the Advent and Christmas season! While on campus you will receive an Advent At-Home kit with Advent Wreath candles and readings for each Sunday, a daily Advent Calendar, devotional book, a DIY Christmas ornament, and more.
We are also receiving food donations for UCO and the UL campus food pantry. Needed items are:
Canned soup meals
Canned diced vegetables
Canned mixed vegetables
Fruit cups/canned fruit
Peanut Butter
Jelly
Jiffy Cornbread
We are excited to see you as we begin this season of hope together.
Giving Tree
Asbury is hosting our Giving Tree again this year to provide gifts to several families that were affected by the recent hurricanes. These families are involved in the Louisiana Methodist Foster Care Program or were referred to us by Love, INC. You can participate in one of the following ways:
Louisiana Methodist Foster Care Program – Purchase a gift that is on a wish list of a child in the foster care program ($20-$50). Please deliver your unwrapped gifts to Asbury by Sunday, December 6th.
Love, INC (In the Name of Christ) - Purchase gifts or a food basket for a family affected by the recent hurricanes ($50+Per Child) by Sunday, December 6th. See list of family opportunities and sign up for one

here.
If you are undecided on how to help, a monetary donation is always appreciated. The Snowflake Fund provides meal bags, gifts and cards throughout the year for Asbury's members who are homebound or in nursing homes, our New Friends, and Meals on Wheels clients. The Giving Tree Fund provides funds for stocking stuffers, gifts and food for those families who were not adopted.
You can write a check payable to Asbury UMC and note in the memo section which fund you would like to support. Or you can go to our online giving portal and make a donation to The Giving Tree fund.
For more information, please contact: Carol Groth, , 344-7575, or the church office 984-4211.
Advent and Christmas at Asbury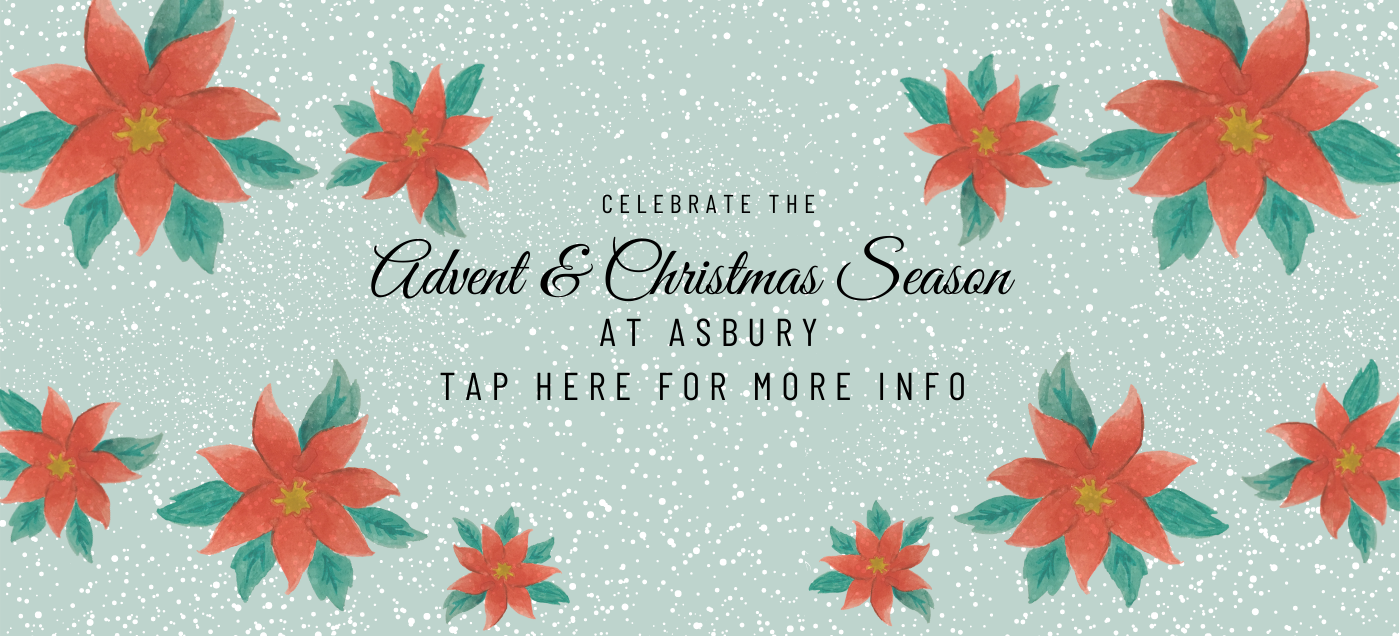 All are invited to celebrate the birth of Christ as we worship together during the Advent season. Use the button below to go to our Christmas webpage for a list of our Advent worship services and events and our Christmas Eve worship schedule. Join us as we grow, live, and share with all the love of Christ.
events
For more about upcoming events at Asbury, please see our Events page.
worship
For more about worship here at Asbury, please see our Worship page.