MESSAGE UPDATED February 26, 2021
A note from Rev. John
Last week, the temperature dipped into the teens, and we huddled indoors while the streets were frozen. This week, we're in the 70s, joggers are exercising in shorts, and spring feels right around the corner. The winter weather here is a lot like life: changes come every day--sometimes, every hour. Often, change is perfectly welcome, especially when it leads to something better. But at other times, change can be unsettling, even when it might be good for us!
The past 12 months have been a time of unprecedented change for all of us, much of it unwelcome and disorienting. It's been a tough year. But it's so encouraging to see the changes now happening in a more positive direction as we are more and more able to return to activities that feel closer to "normal."
Over the last year, Asbury has handled change so well! We've made adjustments, learned new skills, adapted to meet challenges, and added new ministries. We're still taking reasonable precautions, and I'm thrilled to see more and more people returning to in-person worship. I'm just as thrilled that online worship is continuing to reach people who aren't yet able to gather in crowds. And as the pandemic situation gets better, look for more changes back toward activities that gather us together in fellowship.
Despite all the change we've experienced, one thing has remained the same: our commitment to growing, living, and sharing with all the love of Christ! Thanks for being a part of a community of faith where this commitment to love will never change!
Peace & Love,
John
Lenten Mission Project
As we look toward the possibilities of new life, renewal, and transformation this Lent, we are expanding our food offering for United Christian Outreach. Every Sunday in the Lenten Season (February 21-March 28), we will be collecting non-perishable food items. Please fill your blue bags with: Jelly, Cooking Oil, Corn, Canned Vegetables, Instant Grits and Oatmeal. We are so grateful to partner with UCO to continue to share food with community members in need.
There will be joy retreat: March 13
The Lenten season prompts us to be particularly intentional about setting aside time for reflection, prayer and scripture reading. Rev. Susan Ferguson is providing just such a time for you with her upcoming mini retreat, There Will Be Joy. Please join us on Saturday, March 13th from 10:00-1:00 for a time of reflection, discussion, laughter and sharing as we explore ways to move toward joy. We will meet both In Person and on Zoom. REGISTER here or call the church office at 984-4211. We so hope you will join us.
There will be joy registration
Auto Repair Ministry: march 13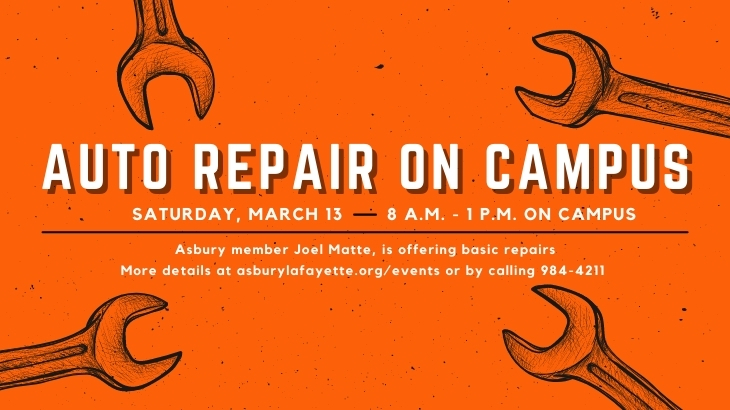 Starting Saturday, March 13th from 8am -1pm Asbury member Joel Matte will be offering free auto repair, once a month on the Asbury campus. Joel can complete lube, oil and filters changes, bulb and belt replacements, wheel swaps, code readings, windshield wiper replacement, some fluid services, and basic diagnostics. While the services are free of charge to those who might need them the participate will have to supply any needed part(s). If you'd like more information or have questions about this new ministry, please call the church office at 984-4211.
events
For more about upcoming events at Asbury, please see our Events page.
worship
For more about worship here at Asbury, please see our Worship page.