MESSAGE UPDATED November 27, 2020
A message from your Asbury Pastors and Ministry Directors
On this Thanksgiving week, we are thankful that despite our current challenges, God is always leading us with the love of Jesus Christ as our guide.
We're entering another time of increased coronavirus danger in our community, and physicians are recommending that we all do our part to stay safe and make decisions that reduce the risk of harm. The situation is changing daily, and Asbury will adjust to meet the issues with faithfulness and loving-kindness. Since our state is moving into Phase 2 of the COVID-19 response again, we're reviewing our in-person ministries with the safety of our congregation, volunteers, staff, and community in mind. We want all of our actions to flow from our commitment to the love of Christ and compassion for our neighbor.
For this Sunday, we're pausing Sunday school so that we can assess our classroom spaces and make wise decisions for the coming weeks. As of now, Sanctuary and Spiritwind worship will still take place this Sunday, and we are seeking the advice of local medical professionals to determine what adjustments will be needed over the following weeks. Over the next week, we'll continue monitoring the situation, consider the needs of our community, and respond according to our purpose of growing, living, and sharing with all the love of Christ.
Giving Tree
Asbury is hosting our Giving Tree again this year to provide gifts to several families that were affected by the recent hurricanes. These families are involved in the Louisiana Methodist Foster Care Program or were referred to us by Love, INC. You can participate in one of the following ways:
Louisiana Methodist Foster Care Program – Purchase a gift that is on a wish list of a child in the foster care program ($20-$50). Please deliver your unwrapped gifts to Asbury by Sunday, December 6th.
Love, INC (In the Name of Christ) - Purchase gifts or a food basket for a family affected by the recent hurricanes ($50+Per Child) by Sunday, December 6th. See list of family opportunities and sign up for one

here.
If you are undecided on how to help, a monetary donation is always appreciated. The Snowflake Fund provides meal bags, gifts and cards throughout the year for Asbury's members who are homebound or in nursing homes, our New Friends, and Meals on Wheels clients. The Giving Tree Fund provides funds for stocking stuffers, gifts and food for those families who were not adopted.
You can write a check payable to Asbury UMC and note in the memo section which fund you would like to support. Or you can go to our online giving portal and make a donation to The Giving Tree fund.
For more information, please contact: Carol Groth, , 344-7575, or the church office 984-4211.
Advent and Christmas at Asbury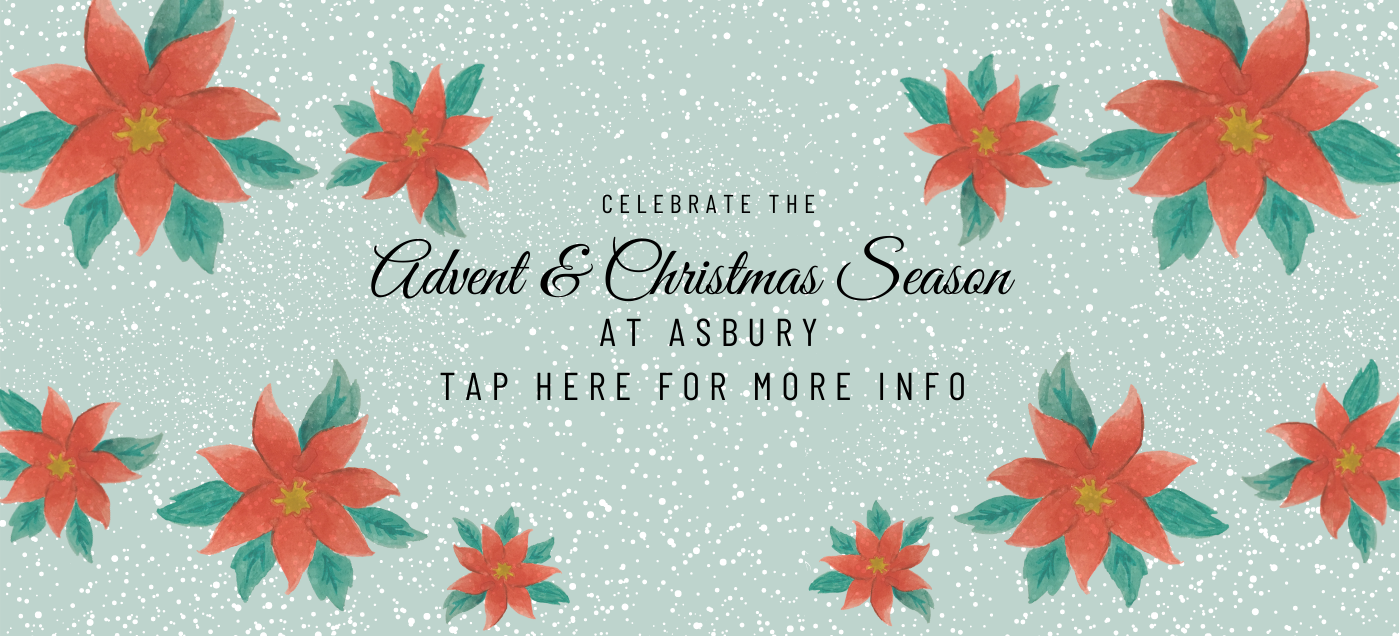 All are invited to celebrate the birth of Christ as we worship together during the Advent season. Use the button below to go to our Christmas webpage for a list of our Advent worship services and events and our Christmas Eve worship schedule. Join us as we grow, live, and share with all the love of Christ.
events
For more about upcoming events at Asbury, please see our Events page.
worship
For more about worship here at Asbury, please see our Worship page.